Evaporar
is the eleventh song of the debut album of
Fabrizio Moretti
 :
Little Joy
.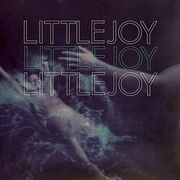 Tempo a gente tem
Quanto a gente dá
Corre o que correr
Custa o que custar

Tempo a gente dá
Quanto a gente tem
Custa o que correr
Corre o que custar

O tempo que eu perdi
Só agora eu sei
Aprender a dar
Foi o que ganhei

E ando ainda atrás
Desse tempo ter
Pude não correr
Dele me encontrar

Ahh não se mexeu
Beija-flor no ar

O rio fica lá
A água é que correu
Chega na maré
Ele vira mar

Como se morrer
Fosse desaguar
Derramar no céu
Se purificar

Ahh deixa pra trás
Sais e minerais, evaporar!
Ad blocker interference detected!
Wikia is a free-to-use site that makes money from advertising. We have a modified experience for viewers using ad blockers

Wikia is not accessible if you've made further modifications. Remove the custom ad blocker rule(s) and the page will load as expected.