Fabrizio Moretti
is the drummer of The Strokes. He was born on 2 June 1980.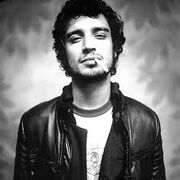 Personal Life
Edit
Moretti was born in Rio de Janeiro, Brazil to an Italian father and a Brazilian mother. He and his family moved to New York City when he was five years old, and had plans to stay there only for three years, but in the end they stayed for seventeen. As a teenager, Moretti attended the Dwight School with fellow band members Nick Valensi and Julian Casablancas.
His parents and brother live in Rio de Janeiro, Brazil and he visits them twice a year.
In 2002, Moretti began dating actress Drew Barrymore, soon after they met at a Strokes concert. Their five year relationship ended on January 10, 2007. Moretti began dating Binki Shapiro, in 2008.
He is fluent in Portuguese.
Fabrizio once said: "I love music, but it is songs, bands, and albums that excite me rather than a specific drummer's style."
He released his debut album Little Joy on November 4, 2008.