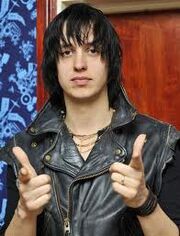 Julian 'Fernando' Casablancas
is the lead singer of The Strokes. He was born at 23 August 1978.
Personal Life
Edit
Julian 'Fernando' Casablancas was born in New York. His parents divorced and his mother subsequently married painter Sam Adoquei. Adoquei helped shape Casablancas' early musical taste by exposing him to music such as The Doors which was markedly different from the mostly Phil Collins-influenced music he originally listened to.
Casablancas never finished school, but continued to take music classes where he says he first enjoyed himself in class.
Julian married The Strokes' former assistant manager, Juliet Casablancas (née Joslin), on February 5, 2005 in New York. The couple have a son named Cal, born March 5, 2010.
Influences
Edit
Julian Casablancas has cited Lou Reed of The Velvet Underground as a major influence on his lyrics and singing style.
Julian stated in a Rolling Stone interview: "The way Lou Reed wrote and sang about drugs and sex, about the people around him — it was so matter-of-fact. Reed could be romantic in the way he portrayed these crazy situations, but he was also intensely real. It was poetry and journalism"
His favorite songs are: Sam Cooke's "A Change Is Gonna Come" and Frank Sinatra's "Oh! Look at Me Now"
He released his debut album Phrazes for the Young on November 2, 2009.