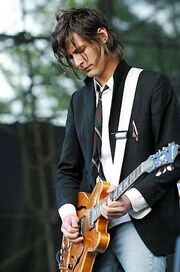 Nick Valensi
is the lead guitarist of The Strokes. He was born at 16 January 1981.
Personal Life
Edit
Valensi was born in New York City. His father is a Tunisian-born Jew and his mother is a French Jew. He has an older sister and a younger sister.
He once said: "I always thought I wanted to be able to play any song you could name. But once I started playing with Julian, that's when I really started to understand music."
Nick attended Hunter College with Nikolai Fraiture.
In Summer 2006, Nick married his girlfriend of five years, Amanda de Cadenet. De Cadenet published a book of photographs entitled Rare Birds in 2005, which includes several pictures of Valensi, whom she refers to as her "muse" on her website. Valensi has described his wife as "The coolest person I know."
Amanda de Cadenet gave birth to their fraternal twins, Silvan and Ella, on October 19, 2006.
Influences
Edit
He cites his influences as The Velvet Underground, The Cars, George Harrison, Slash, Bob Marley, Blondie and Jimi Hendrix.