Nikolai Fraiture
is the bass player of The Strokes. He was born at 13 November 1978.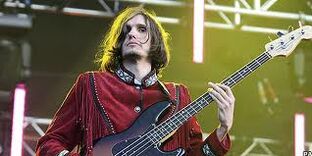 Personal Life
Edit
Nikolai grew up in New York City with his Russian mother and French father and speaks fluent French. Nikolai has an older brother named Pierre and a younger sister named Elizabeth.
Nikolai received his first bass at 18, when his grandfather gave it to him as a graduation present, but he gave it to Julian Casablancas. It was a year later that he picked it up and began to play seriously.