Phrazes for the Young is the debut solo album by Julian Casablancas, released on November 2, 2009.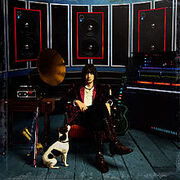 The album was previewed in its entirety on August 31, 2009 at the Duo Music Exchange in Tokyo, Japan. To celebrate the release, Casablancas played a special series of shows every Friday night in November in Los Angeles.
The first track released from the album, "11th Dimension", had its first airing on the Radio 1 Zane Lowe Show on September 17, and was marked as Zane Lowe's Hottest Record. The single was released on October 2, 2009 in the US.
Julian performed "I Wish It Was Christmas Today" on Late Night with Jimmy Fallon on December 21, 2009.
5. Ludlow St.
7. Glass
8. Tourist
Julian's dog, Balki, is pictured on the album, biting his sleeve.