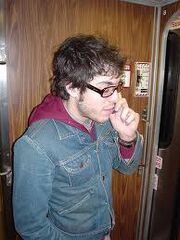 Ryan Michael Gentles
is the manager of The Strokes and the Chief Executive Officer of Wiz Kid Management. Before meeting The Strokes, he was the vocalist and guitarist in two bands, Timmsie's First Time, which broke up in 1995 and The Selzers, which broke up in 2000. Matthew Romano, The Strokes' drum technician and back-up drummer, was also in both bands, playing drums. Recently Ryan has stated that being part of the Selzers "was not exactly a proud moment" for him.
Gentles met The Strokes when he was booking bands for the Mercury Lounge in New York. He was so impressed by them that he quit his job to become their manager. He is now often considered to be "the sixth Stroke".
He played a starring role in their music video "The End Has No End". Any money made by The Strokes is split six ways, with Gentles receiving the same amount as each band member. Gentles is featured on Albert Hammond, Jr.'s album, entitled Yours to Keep. According to his MySpace page, he considers his father his hero.
In January 2008, he merged his company with music business veteran, Danny Goldberg's, to form Gold Village/Wiz Kid Management.
He was born on November 28, 1977